Back home - Electronics recycling
Cell phones recycling.
We buy all kinds of non working, discarded, end of life, cell phones scrap, cell phone boards and all other non working cellular equipment, for recycling and precious metals recovery purposes.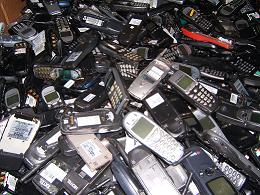 See more pictures of cell phones scrap we buy
We at B.W. Recycling buy cell phones scrap for recycling purposes, we also buy scrap cell phone boards (PCB - main boards), scrap cell phone batteries, one way pagers and all kinds of discarded cell phones accessories.
We also buy non working, end of life, surplus L-Ion cell phone batteries, cell phone chargers and all kinds of cellular accessories for recycling.
Learn more about our batteries recycling
Scrap GSM Mobile phones, scrap pagers, non working cell phone accessories such as Nokia ,Qualcomm, Sony Ericsson, Motorola, LG, Apple I-Phone cell phones, Audiovox, Kyocera, Mitsubishi, Nextel mobile phones, Blackberry handsets, batteries and more.
We also buy printed circuit boards out of cell sites and complete out of service cell sites for recycling purposes.
If you have any kind of cell phone scrap for sell please contact us by this form or contact us.