Tantalum Capacitors Recycling
We buy in cash all types of tantalum capacitors for recycling we pick-up anywhere in the US:
SMD type tantalum caps, black or yellow.
All types of plastic capacitors.
Ta Alloy scrap.
Ta powders.
All older epoxy capacitors in all colors, colored tantalum caps.
Wet tantalum capacitors of all colors with silver or not.
Tantalum capacitors anodes of all types.
Scrap Tantalum anodes.
Tantalum tears.
Click here to view images of all types of tantalum caps we buy for recycling.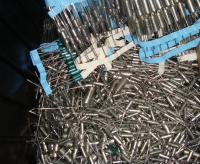 All manufacturers are accepted, including AVX, Vishay, Cornell Dubiller, EPCOS, Kemet, KOA Speer, Nichicon, Panasonic.
Scrap Capacitors in all conditions are accepted
We can take scrap capacitors for recycling in any condition new or used, loose or in original packaging, expired or blown.
We can chemically refine clean and alloy Tantalum scrap to solid Ta
If you have any type of tantalum capacitors you would like to sell for recycling please let us know, we do have a minimum amount of all types of capacitors, our minimum purchase is 10 lbs.
You can also call @ 1-800-234-4722
We are the actual refinery for the tantalum capacitors, we recover all kinds of precious metals from tantalum capacitors, please contact us for pricing by filling out the form on the right.
How is the tantalum recovered from scrap capacitors
In some tantalum capacitors the actual tantalum is in a form of very thin film, which makes it very hard to recover the tantalum and recycle it, therefore a chemical process is required, in the SMD type capacitors the actual tantalum is inside a plastic casing which make it even harder to get to the actual tantalum with chemical so a low temperature baking is needed prior to the chemical process.
Tantalum capacitors price
The price for the capacitors vary based on the Ta market price, the quantity and the type of the capacitors you have for sell. for prices please call 800-234-4722.
Pick-up
We pick-up anywhere in the US including Hawaii and Puerto Rico, we do have a 10 lbs minimum for a free pick-up.