Home > X-Ray film recycling > Silver recovery
Silver recovery. (Silver reclamation)
We recover silver from x-ray film and buy silver traps for silver refining.
Among all of the precious metals we refine we also recover silver. Silver is usually recovered from old x-ray film of all kinds including medical films, lithographic and industrial NDT / NDE film, both exposed or un-exposed films, we also recover silver from silver traps that is used in most kinds radiology developers.
X-Ray film recovery process.
The silver recovery process from x-ray films is done by stripping all of the x-ray films with a unique liquid which removes the silver into fluid and leaves the x-ray 100% blank, the plastic is than dried shredded, baled and sold for PET reuse.
This process assures that all of the records on x-ray films are being destructed.
If you have any x-ray films with silver you would like to sell, please contact us and we will be happy to actually buy your old x-ray films.
Please note that we also pick-up for free, nationwide, our pick-up and our program is 100% safe, we also provide a certificate of destruction for all of your medical records including x-rays, paper jackets and any paper records that might come with the films. Click here for more information about our x-ray recycling program.
We also reclaim silver from older batteries, the silver recovery process for these is much more complicated and requires melting the batteries into bars and than the silver is than extracted.
Silver traps recovery process.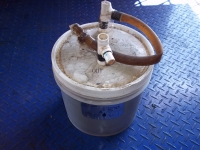 Silver traps is also known as silver filters and silver trap window, it is made out of steel wool and it keeps all of the silver that comes off the fixer during the x-ray development process.
The silver recovery process for the silver trap is pretty complex since the filter in most cases contains the actual fixer fluid, we have to actually dry out all of this fluid, this fluid must be dried in a designated oven in order to assure that the gases that comes out will not cause air pollution.
After the silver filter is dried, it has to be melted down, at the end of the melting process we get silver bars, however these silver bars is not pure silver since it also contains some steel from the wool steel of the trap, the silver bars has to be refined in order to get pure silver.
We will buy any quantity of silver filters for recovery, if you have any for sell please call us 877-217-7020 or fill out the form to the right of this page.
We serve all states, counties and cities for x-ray recycling as well as silver recovery units including:
Alabama - Arizona - Arkansas - California - Colorado - Delaware - Florida - Georgia - Hawaii - Idaho - Illinois - Indiana - Iowa - Kansas - Kentucky - Louisiana - Maine - Maryland - Massachusetts - Michigan - Minnesota - Mississippi - Missouri - Montana - Nebraska - Nevada - New Hampshire - New Jersey - New Mexico - New York - North Carolina - North Dakota - Ohio - Oklahoma - Oregon - Pennsylvania - Puerto Rico - Rhode Island - South Carolina - South Dakota - Tennessee - Texas - Utah - Vermont - Virginia - Washington - West Virginia - Wisconsin - Wyoming