Measurement Computing USB-1208LS 8 Channel 12 Bit Input
FREE SHIPPING IN THE US WITH UPS 3 DAYS SELECT. WE USUALLY SHIP IN THE SAME DAY ORDERED BUT MAY TAKE UP TO 2 BUSINESS DAYS.
We also ship worldwide, please contact us to inquire about shipping to any other country outside the US and Canada.
This is a brand new device. The device is in unopened anti static bag, it comes with all software CD'S
Data Acquisition Software CD
UL for Labview CD
Universal Library CD
It also come with a DAQ Software quick Start book a User's guide and a USB cable.
USB-1208LS
USB-based 8 Channel Data Acquisition Device
Measurement Computing USB-based 8 Channel 1.2 kHz Data Acquisition Device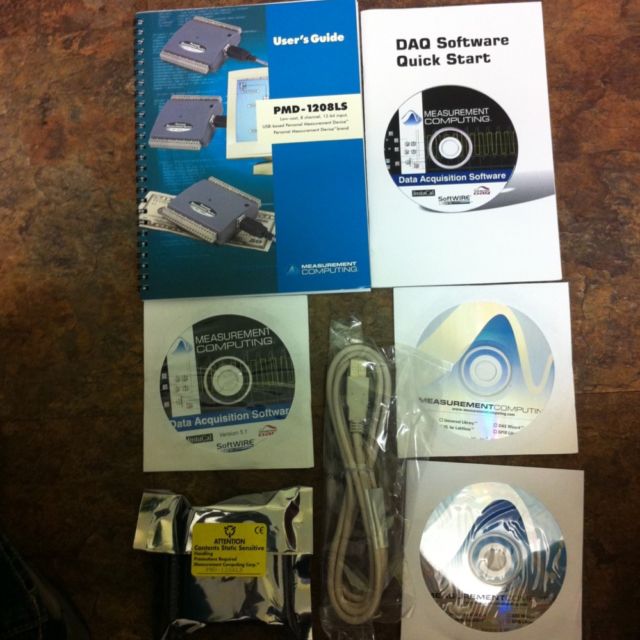 The USB-1208LS from Measurement Computing is a low speed USB device that features 8 analog inputs, 2 10-bit analog outputs, 16 digital I/O connections, and 1 32-bit external event counter.
The USB-1208LS analog inputs are software configurable for either 8 11-bit single-ended inputs, or 4 12-bit differential inputs. An on-board industry standard 82C55 programmable peripheral interface chip provides the 16 digital I/O lines in 2 8-bit ports. You can configure each digital port independently for either input or output.
The USB-1208LS is powered by the USB port on your computer. No external power is required.
USB 8 Channel DAQ includes:
>> 2 Meter Long USB Cable
>> Measurement Computing's DAQ software suite that includes TracerDAQ, The Universal Library, Comprehensive drivers for DASYLab and NI LabVIEW as well as InstaCal software utility for installation, calibration, and testing.
8 Analog Input DAQ Module Specifications
A/D Converters
Successive Approximation Type
Sampling Rate
Up to 50 kS/s Maximum.
2 Channels: 25 kS/s
4 Channels: 12.5 kS/s
Number of Channels
8 Single Ended / 4 differential, software selectable
Input Ranges
Single Ended Mode
±10V, G=2
Differential Mode
±20V, G=1
±10V, G=2
±5V, G=4
±4V, G=5
±2.5V, G=8
±2.0V, G=10
±1.25V, G=16
±1.0V, G=20
Software Selectable
Input Voltage Range
(Linear Operation)
Single Ended Mode: ±10 Volts Max
Differential Mode: -10 Volts Min; +20 Volts Max
Resolution
Differential: 12 Bits, no missing codes
Single Ended: 11 Bits
Memory
Non-Volatile with 1024 bytes Storage
Power Source
USB Port, No External Power Connection
USB Device
Type: USB 1.1 low-speed
Compatibility: USB 1.1 and USB 2.0
Cable Length: 3 Meters Maximum
Operating Range
Temperature: -0° to 70 °C
Humidity: 0 to 90% RH Non-Condensing
Storage Range
Temperature: -40° to 70 °C
Humidity: 0 to 90% RH Non-Condensing
OS Compatibility
Windows 7, Vista, XP SP2+ (32-Bit or 64-Bit)
Dimensions
79mm x 82mm x 25mm